BOZEMAN — Isaac Spears entered the transfer portal on Monday, signifying an end to his time with the Montana State men's basketball team after just one season. The school confirmed the move Monday morning.
The 6-foot-4 point guard reclassified early in his high school career, so he arrived at MSU last summer already 20 years old after two seasons at Bella Vista Prep in Scottsdale, Arizona.
The freshman appeared in 12 games for the Bobcats but played just 32 combined minutes.
Spears exhibited outstanding athleticism in practices, during warm-ups and sometimes during his brief stints in games. He is a talented leaper and dunker who also showed a knack for hitting shots from the outside, especially in practice.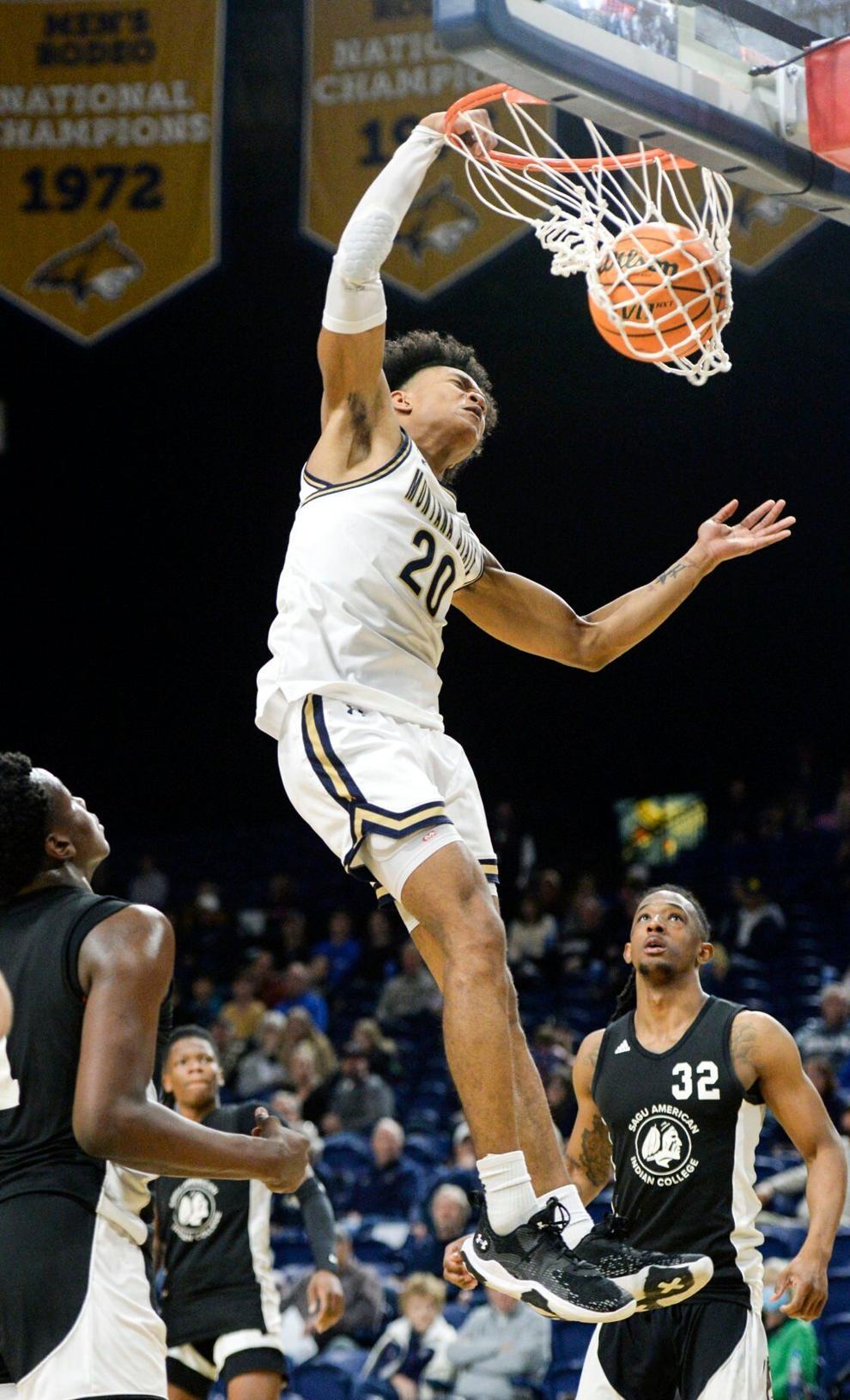 Spears had trouble cracking Montana State's rotation, though. Xavier Bishop, a sixth-year point guard, led the team with 1,185 minutes (33.9 per game), and various other guards with more experience saw much more playing time than Spears.
Spears hit the first shot of his MSU career — a 3-pointer in the home opener against Rocky Mountain College on Nov. 14. Three days later, Spears had four points thanks to a 3-pointer and a free throw while playing six minutes in a loss at South Dakota State. He also grabbed two rebounds and had one assist against the Jackrabbits.
Spears tied his career high of four points while playing a season-high seven minutes in a home blowout victory over SAGU American Indian College on Dec. 22. He hit two shots from the field and had three assists in that contest.
His playing time petered out as the calendar flipped to 2022. He played just twice in January and once in February as the Bobcats stormed through their Big Sky Conference schedule on the way to being regular season champions. He played three scoreless minutes on March 5 in the home finale against Northern Colorado.
Spears played two total minutes and scored two total points in two games the next week at the Big Sky Conference tournament in Boise, Idaho.
In Montana State's lopsided loss to Texas Tech in the first round of the NCAA tournament on March 18 in San Diego, Spears entered late in the game and shot 1 for 3 from the field and finished with two points.
Overall for MSU, Spears shot 5 of 15 from the field and 2 of 8 on 3-pointers. He had 15 total points, three rebounds and four assists against eight turnovers.
Spears is MSU's second outgoing transfer. He joins forward Borja Fernandez who entered the portal on March 25.
Darius Brown II, a 6-foot-2 point guard, announced on March 29 he is transferring from Cal State Northridge to Montana State, though the school has not officially announced that addition. Brown has two years of eligibility left.
Spears could not be reached for comment on Monday.
Parker Cotton can be reached at pcotton@dailychronicle.com or 406-582-2670. Follow him on Twitter @ByParkerCotton.